Meet the DHS Chief Counsel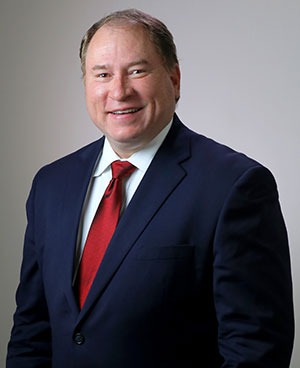 David Sterling serves as Chief Counsel, a position he's held since 2015. In this role, he oversees the largest legal Department in state government with a staff of about 162 employees, including over 80 attorneys. The Office of Chief Counsel provides legal support to the Department's various program divisions and offices. Prior to joining DHS, David practiced business and commercial litigation for 16 years in the private sector. David earned his law degree at the University of Arkansas at Little Rock William H. Bowen School of Law in 1997. He also holds a Master of Public Administration and a bachelor's degree from the University of Arkansas at Little Rock. He is admitted to practice before the U.S. Supreme Court, the U.S. Eighth Circuit Court of Appeals, the U.S. District Courts for the Eastern and Western Districts of Arkansas and the Arkansas Supreme Court. David has been actively involved in leadership in the American and Arkansas Bar Associations for over 20 years. He is currently President of the Henry Woods Chapter of the American Inns of Court, Co-Chair of the Health Law Committee of the American Bar Association's Section of Litigation, a tenured delegate to the Arkansas Bar Association's House of Delegates, and an active member of the Pulaski County Bar Association. David is married to his wife, Deeni, and they are parents to their daughter, Elizabeth Anne. They have been active members of Fellowship Bible Church in Little Rock since 1994.
Office Overview
The Office of Chief Counsel consists of six sections which provide extensive legal, investigative and hearing services to the Department.
The Office of Public Guardian unit is responsible for the care of incapacitated individuals who have become wards through an application process as mandated by statute. Applications may be presented to this office by any concerned citizen but most applications are submitted by medical professionals, long term care providers, other DHS units and family members. If the Office approves the application, the Office will petition a court for guardianship of the ward and, if appointed, may serve the guardian of the person, the estate, or both.
The Office of Appeals and Hearings conducts administrative hearings and makes the final agency decisions for the Department regarding appealed actions. A request for an administrative hearing may concern Medicaid, Maltreatment, SNAP, or a number of other agency programs.
The Appellate Section provides statewide legal representation to the Department of Human Services in the areas of child welfare and adult protective services.
Also provides legal assistance and representation on administrative matters, litigation pertaining to delivery of services, program administration,and overpayment collections.
The Office of Employee Relations/Office of Equal Opportunity processes employee grievances, mediations, administrative review hearings, and State Employee Grievance Appeal Panel (SEGAP) hearings. This office provides technical assistance to employees regarding work related concerns. This office also ensures compliance with federal and state civil rights/anti-discrimination laws, regulations, methods of administration, executive orders, etc., and investigates client complaints of discrimination and rude/discourteous treatment.
The Regulatory Section provides legal assistance and representation on contracts, privacy section matters, employment law, personnel, civil rights and rules promulgation issues for the agency.
The Privacy Section ensures the Agency's compliance with HIPAA and privacy laws. It is also responsible for handling subpoenas, record requests, authorizations for information, and compliance with court orders.
Contact Information
Office
Address
Phone
Email
Regulatory Section
P.O. Box 1437 – Slot S260
Little Rock, AR 72203-1437
Ph 501-682-1363
Fax: 501-682-8009
Email
Appeals and Hearings
P.O. Box 1437 – Slot N401
Little Rock, AR 72203-1437
501-682-8622
Fax: 501-682-6605
Email
Employee Relation & Equal Opportunity
P.O. Box 1437 – Slot N250
Little Rock, AR 72203-1437
501-682-6003
Fax: 501-682-7952
Email
Privacy Section
P.O. Box 1437 – Slot S2 60
Little Rock, AR 72203-1437
501-320-6475
Fax: 501-683-4829
Email
Appellate Section
P.O. Box 1437 – Slot S260
Little Rock, AR 72203-1437
501-320-6334
Fax: 501-682-6720
Email
Office of Public Guardian
P.O. Box 1437 – Slot W105
Little Rock, AR 72203-1437
888-397-2430
Fax: 501-682-1483
Email
Staff
Name
Title
Phone
David Sterling
Chief Counsel
501-320-6355,
Fax: 501-682-8009
Sarah Linam
Chief Deputy Counsel – Regulatory
501-682-1363,
Fax: 501-682-8009
Rich Rosen
Chief Deputy Counsel – Appellate
501-320-6334,
Fax: 501-682-1390
Anna Imbeau
Deputy Counsel, County Legal Operations
501-320-3935,
Fax: 501-682-8009
Sommer Faulkenberry
Chief Administrative Law Judge, Appeals and Hearings
501-682-8622,
Fax: 501-682-6605
Reginald Cleaver
Office of Employee Relations
501-682-7952,
Fax: 501-682-8926
Kitten Dixon
Office Manager, Office of Chief Counsel
501-320-6378,
Fax: 501-682-8009
Jennifer Holland
DHS Privacy Officer
501-320-6560
Carolyn Singleton
Public Guardian for Adults
888-397-2430,
Fax: 501-682-1483
OCC Documents & Forms