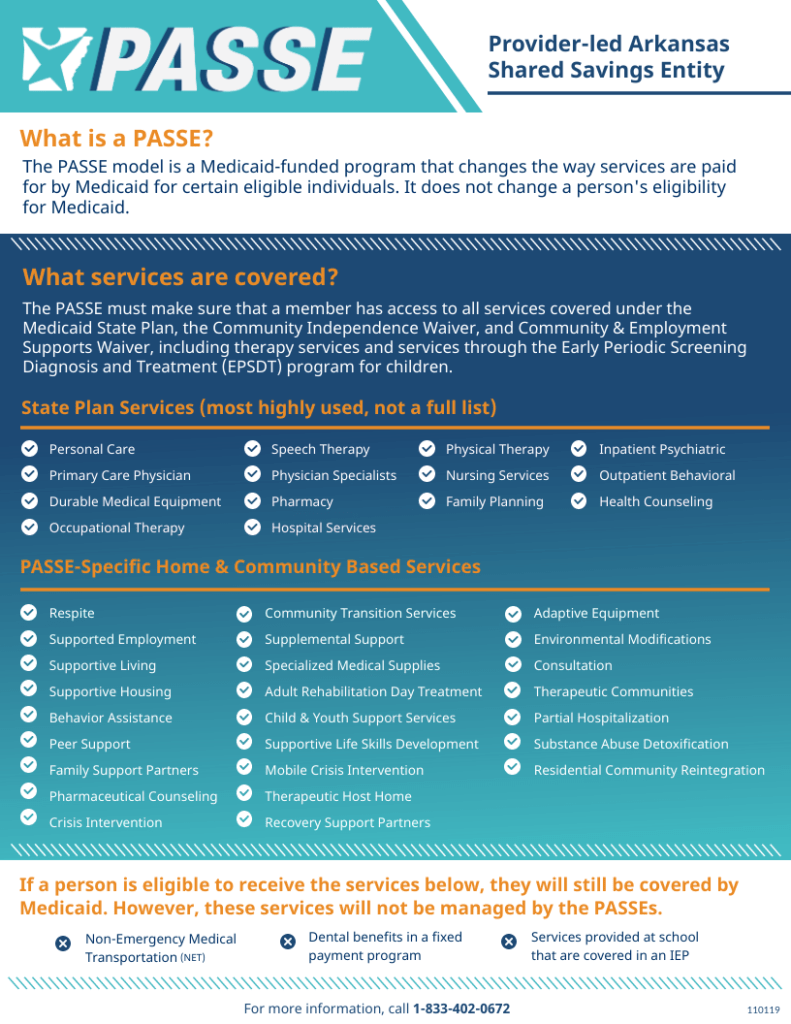 It is the responsibility of the PASSE Ombudsman Office to ensure that compassion, respect, trust, and integrity- all core values of the Arkansas Department of Human Services(DHS)-are demonstrated in resolving issues or complaints from beneficiaries who are PASSE members.
The Ombudsman's Role
If you have an issue or complaint about the PASSE program or services, we encourage you to first discuss those issues with the program or office where you get the services. There are times when a specific issue can be resolved immediately. However, if the issue or complaint cannot be resolved to your satisfaction, please contact our office.
There are four ways to contact our office:
Call: 1.844.843.7351
Individuals who have a hearing or speech impairment can contact our office by calling toll free, 1.888.987.1200 option 2.
Online: Submit issues or complaints by emailing PASSEOmbudsmanOffice@dhs.arkansas.gov
Mail:
Division of Medical Services
Office of Ombudsman
P.O. Box 1437 Slot S-418
Little Rock, AR 72203-1437
Fax: 501.404.4625
When can a person reach out to the Ombudsman Office?
• If you are having issues with PASSE Care Coordination Services
• If you are having trouble contacting your PASSE
• If you have questions about your Independent Assessment determination results
• If you have questions about appeals
• If you are dissatisfied with the services received from the PASSE
• If you are a provider and have questions about enrollment in the PASSE
• If you have a concern or issue and don't know who else to call
Other Resources
How can I get impartial assistance choosing a PASSE?
1.833.402.0672
How do I find a Primary Care Physician?
1.800.275.1131
How do I find a Dentist?
1.800.582.4887
Where do I call for Non-Emergency Transportation assistance?
1.888.987.1200, option 2
How can I find out more about my appeal or hearing?
501.682.8622
Where do I call for Pharmacy questions?
1.800.424.7895, option 3
Office of Ombudsman Contact InformationDivision of Medical Services
Office of Ombudsman
P.O. Box 1437 Slot S-418
Little Rock, AR 72205Telephone: 1.844.843.7351
Email: PASSEOmbudsmanOffice@dhs.arkansas.gov