Greg Steinsiek
This week's DCFS Every Day Champion is Greg Steinsiek, a Family Service Worker in western Arkansas!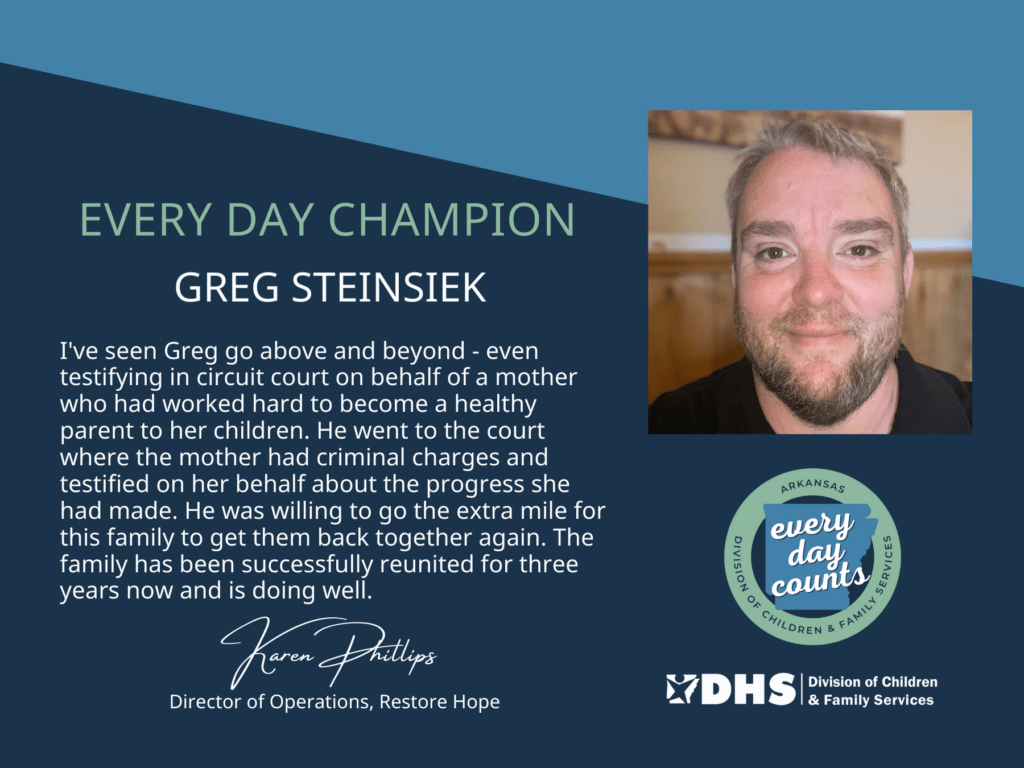 Greg didn't start his professional life as an eager social worker straight out of college. He spent 20 years in restaurant management before making a career change and joining us. We can't help but believe that the skills he learned, practiced, and perfected in that profession – teamwork, strong work ethic, creative problem-solving, and a focus on communication and customer service – were a perfect springboard into his current (and we hope last!) profession.
So, what is it about Greg that makes him our latest Every Day Champion? He truly values and works closely with community partners to make sure that his families get the supports and resources they need. Greg isn't afraid to lean on his local team and leadership for advice and guidance, and he works hard to be that same support for his colleagues when they need him (or his truck!). He takes great pride in and has embraced his role as a mentor to younger workers, offering his learned experiences to help make them more comfortable and effective in their roles.
But maybe most importantly of all, Greg is known far and wide for his belief in the strength of the family. He loves talking about his own family and how proud he is of them. But for the families he works with every day, he works hard to be a source of hope and comfort during difficult times. For those families, Greg is their Every Day Champion…and that's why he's ours, too.
Thank you, Greg, for your commitment to the children and families of Arkansas!
Gala Griffin
This week's Every Day Champion is Gala Griffin – Family Service Worker Supervisor in Southwest Arkansas!
Gala joined DCFS right out of college as a family service worker in Nevada County. This year, Gala will celebrate 30 years with DCFS. Talk about commitment! In her time with the division, Gala has served families in a few different roles. She started off as a family service worker in Nevada County, but after attending an adoption finalization and falling in love with the work, Gala joined the adoptions team, and the rest is history! Today, Gala supervises adoptions in DCFS Area 4 and is a fierce advocate for waiting children!
Gala spoke to our staff across the state today, and shared some of her best practices:
1. Take things one day at a time
2. Treat everyone with respect
3. Be a hands-on leader; a supervisor is only as good as the team they lead.
When Gala is not busy advocating for waiting children and teens or leading a team of DCFS employees, she enjoys being outdoors with nature, watching sports, and playing with her grandchildren.
Thank you Gala for your commitment to the children and families of Arkansas!
Natalie Payne
Since we started this series back in the spring we've highlighted several amazing family service workers who are doing incredible work in their communities. But, this week, we've decided to expand our criteria, and share even more stories from the field — and this time, from supervisors!
Meet Natalie Payne, Investigations Supervisor for Pulaski County! Natalie joined DCFS as an investigator in 2017 and earned current role as supervisor in 2020. She is a fierce advocate for the children and families of Arkansas. Today, she shared with DCFS staff across the state one of biggest lessons she has learned in this line of work and one of her best practices.
"One of the biggest things I learned is that every case is not a removal [of children from their homes, parents]," Natalie says. "It's important to implement services in the home whenever you can."
Having once been a young, single mom herself who had to rely on help from family and friends, and even the state, Natalie also shared on her belief in the importance of treating families with respect, having compassion, and being empathic to situations.
"I know how hard it is being a single mom," Natalie says. "I had a lot of help from my family, but I know not everyone has that. So, it's important to me that we're showing compassion to families who need our help."
Aside from her work supervising investigations, Natalie also serves as DCFS representative for the Pulaski County Multidisciplinary Team and represents Pulaski County on the Complex Case Review Team at the Child Protection Center.
Thank you Natalie for your commitment to the children and families of Arkansas!
Kelsey Jones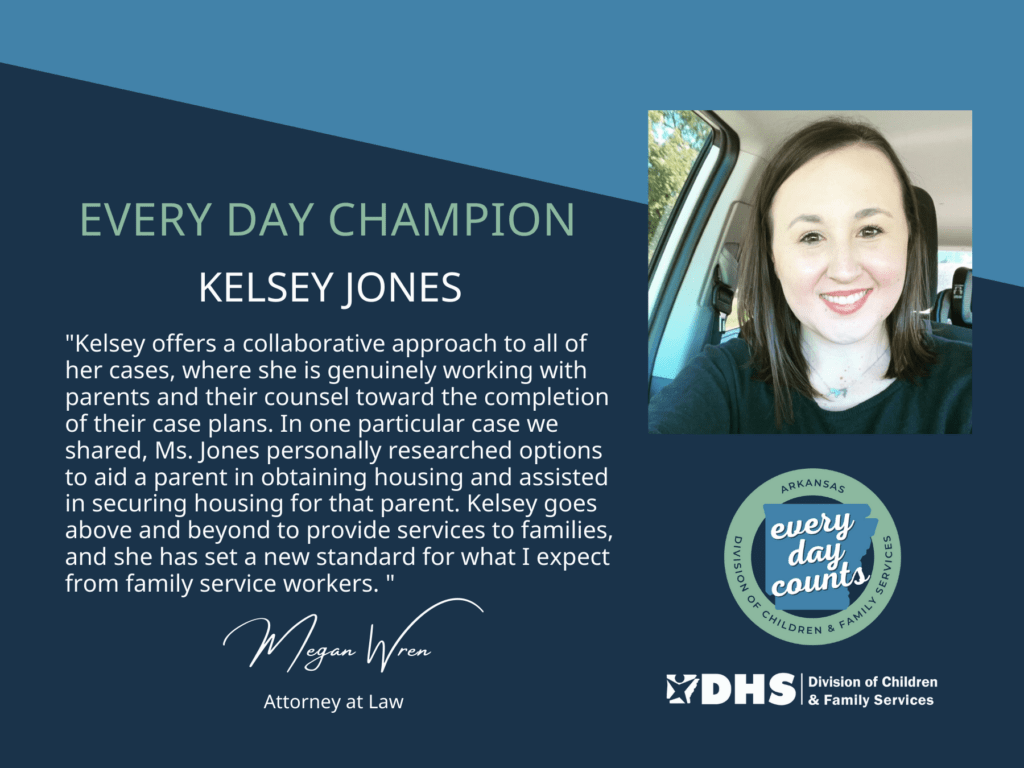 Meet this week's Every Day Champion – Kelsey Jones!
Kelsey is a fierce advocate for children and families in Craighead, Greene, and Clay counties (area 8). She originally joined DCFS as an investigator, but after stepping up to help out a short-staffed foster care team, Kelsey became a foster care resource worker, and most recently switched to adoptions.
When we sat down with her today, Kelsey shared something that she has found to be very important in this line of work — establishing connections and building rapport with everyone involved on a case, especially the children.
"As a foster care worker, I made it a priority to connect with the children on my caseload, especially those who were in facilities," Kelsey said.
"There was one child who had no family, and so every night when they were allowed a phone call, he had no one to call. One night he called me and said, 'Mrs. Kelsey, I have no one else to call. You are the only person I have.' That absolutely humbled me, and from that day forward I did my best to make sure I didn't miss his calls."
Kelsey also shared her beliefs on the importance of mentorship in the workplace, recalling her time with a mentor, and more recently being able to mentor others in the workplace.
Thank you Kelsey for your commitment to strengthening the children and families of Arkansas. We could not do what we do without people like you!
Dea Garrison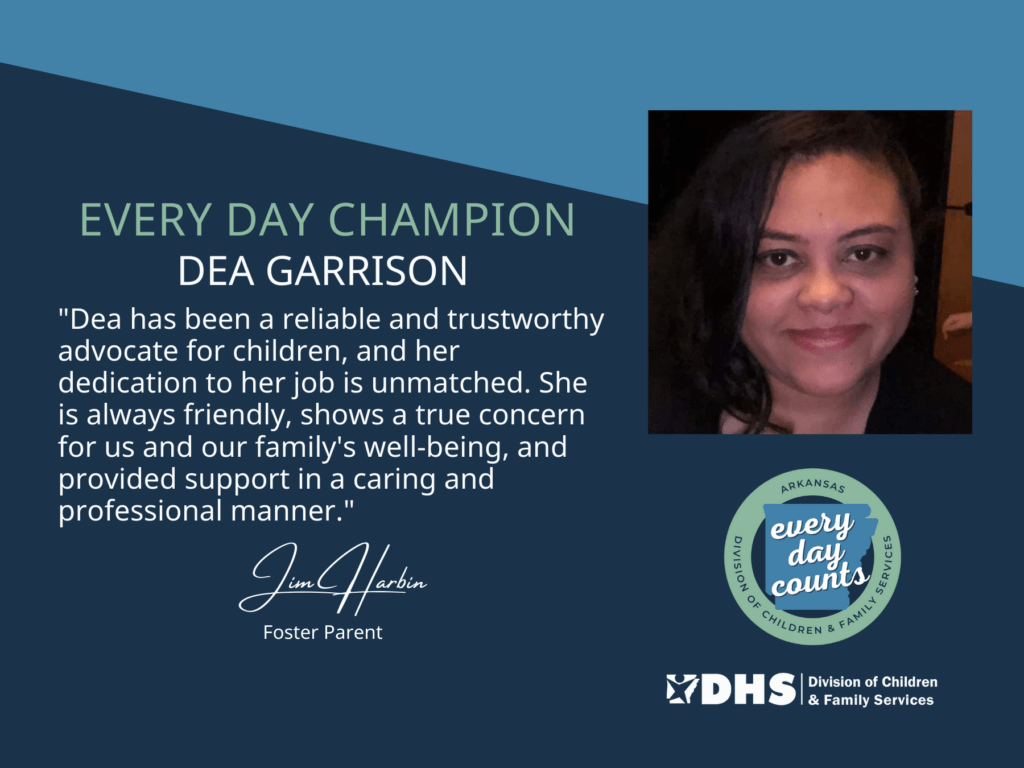 This week's Every Day Champion is Dea Garrison, a resource worker out of area 3!
Dea began her career in child welfare as an investigator working solely on Garrett's Law cases — cases where a child or children are born positive for illegal substances. Eventually, Dea transitioned from her role as an investigator to her current role as a resource worker where she focuses on supporting foster families. To the children, families, and communities she serves, Dea is an invaluable support offering them the emotional, mental, and logistical support they need.
To her co-workers, Dea is a team player and a champion for the division's new practice model, safety organized practice. Dea shared with us that she is especially fond of the team decision making tool. "I think team decision meetings and mentoring staff on the importance of having a team approach is one of the most important things we can do right now," she said.
Thank you Dea for your commitment to serving the children and families of Arkansas!
Jerrica Burns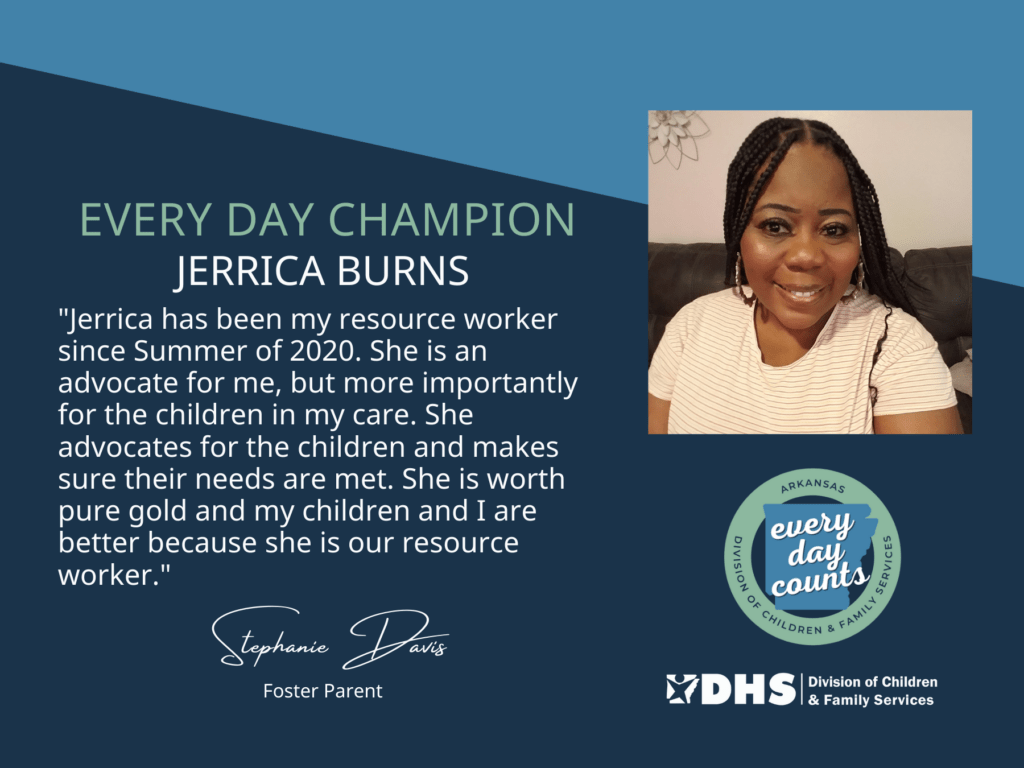 Like all of the champion's we've featured, Jerrica is, simply put, amazing. She goes above and beyond the call of duty to help the children and families on her caseload, but we're especially proud of her work around the Interstate Contract on the Placement of Children (ICPC) — an agreement between states to accept and place children from different states into their foster care program — and safety organized practice — a new practice model DCFS is implementing to better serve children and families.
Last year, Jerrica was tasked with learning the ICPC process, which required her to learn the ins-and-outs of other states' foster care programs and requirements to better serve children who were placed in our care from other states. Though it was challenging, Jerrica committed to learning the process and has been a great resource for ICPC families on her caseload.
Jerrica is also a champion of safety organized practice – her favorite tool to use is the three-column mapping. When Jerrica shared her experience with our statewide DCFS staff, she shared, "The three-column mapping tool helps paint a full picture – the good and bad – not just what's bad. Implementing this tool in my work has helped me keep placements from falling apart; I was able to keep a child safely placed in a home and ensure that services were in place to support the family."
When Jerrica is not busy championing the causes of DCFS, you can catch her taking a cat nap, which is completely justifiable considering all the wedding planning she's been doing, reading a book, or serving her community with her sorority!
Thank you Jerrica for your commitment to serving the children and families of Arkansas!
Sally Luckett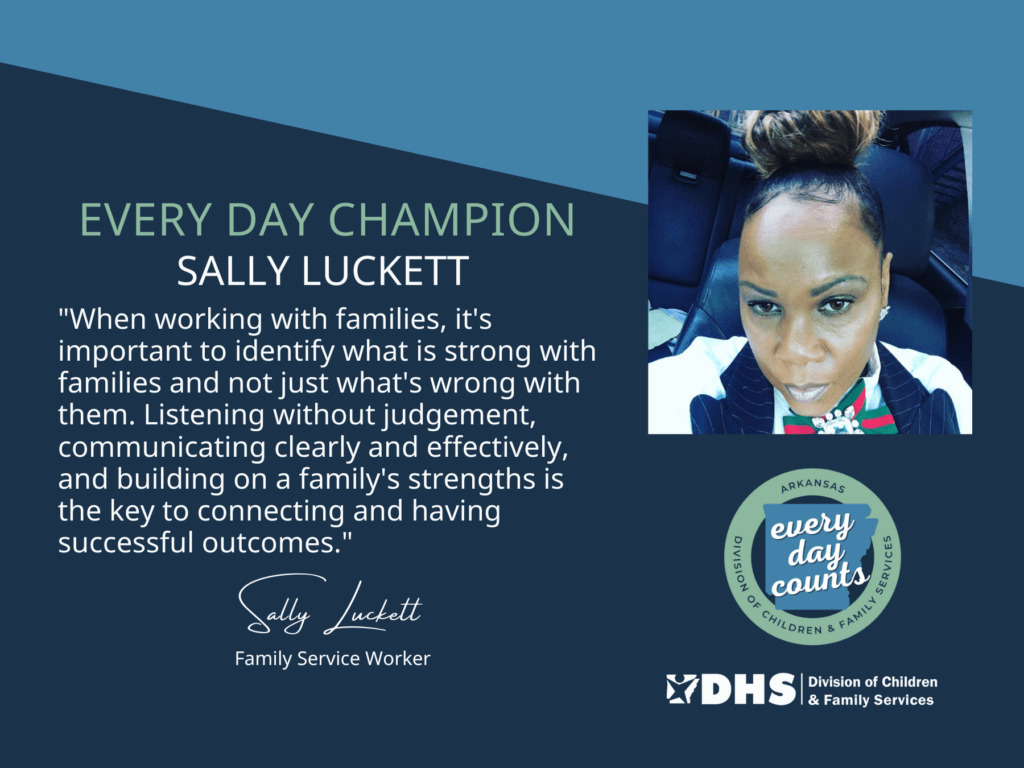 Meet Sally, this week's Every Day Champion! Sally serves children and families in Phillips County as a family service worker (FSW). Sally joined DCFS seven years ago as a Program Assistant, and within a year she was promoted to a family service worker. Her first case, she says, was one of the hardest cases to come across her desk, and she believes nothing could've prepared her for the journey she walked with those children.
"I didn't give up on them. Instead, I became immersed in the children's lives," Sally says.
Through her interaction with the children, Sally was not only able to build rapport with them as their caseworker, but a strong family-like bond that remains today. When one of the children reached majority age (18) and graduated high school, Sally helped get the teen into a residential developmental center. Beyond that, Sally took on a part-time job with the center so that she could maintain contact and remain a support in the client's life and educate the center on DCFS and the childwelfare system as a whole — talk about a champion!
Thank you, Sally, for your commitment to the children and families of Arkansas. We could not do what we do without you!
John Seward
This week's Every Day Champion is John Seward in Cleburne County in Area 9 ! John is very humble and doesn't seem to like the spotlight much, but take it from us, the work he does for the families he serves is worthy of recognition!
John is known in the counties he serves for being diligent, going the extra mile for children and families, and his unconventional way of connecting with children, his shoes. Yes, you read that right, his shoes! When we caught up with John and his team, his area director, Cyndi Rowlett, shared this story:
"I am pretty strict on dress code in the area and especially in court. I started noticing John always wearing Converse shoes in court. One day, I commented on the color of his Converse- they were BRIGHT. He asked if I knew the story of his shoes, and I didn't. He proceeded to tell me that several years ago, he was doing an investigation and was having trouble getting a young child to open up to him and talk. Ultimately it was his shoes that got the girl talking and she finally opened up to John! He has spoken to Judge Harrod and gotten permission to wear his Converse shoes in court with his dress clothes. When he told he this story, it really touched me and how a simple thing as a pair of shoes can change so much and build a relationship with a child. He has a HUGE assortment of them and all colors."
John's connections do not stop with the children. He is also well known in the communities he serves as a selfless advocate for safety of children, sacrificing personal time to ensure children are safe; an educator on child welfare laws and policies; and a bridge between local law enforcement and DCFS in the areas he serves.
Thank you John for your commitment to the children and families of Arkansas!
Coby Mikus
After becoming a mom at a young age, Coby knew she wanted to work with children in some capacity. She began her career in early childhood education, and after many years in the field, she was led to join DCFS.
Coby is known in the community for being persistent, making sure children and families are safe and stable; compassionate, working to understand families' needs and working with them to strengthen their family unit; and in the office, a team player, lending herself as a mentor and helping hand to co-workers.
"I wouldn't have it any other way," Coby says of working with DCFS. "I enjoy being a part of our great team here in Crawford County and look forward to many years to come with them."
Thank you Coby for your commitment to the children and families of Arkansas!
Holli Harrington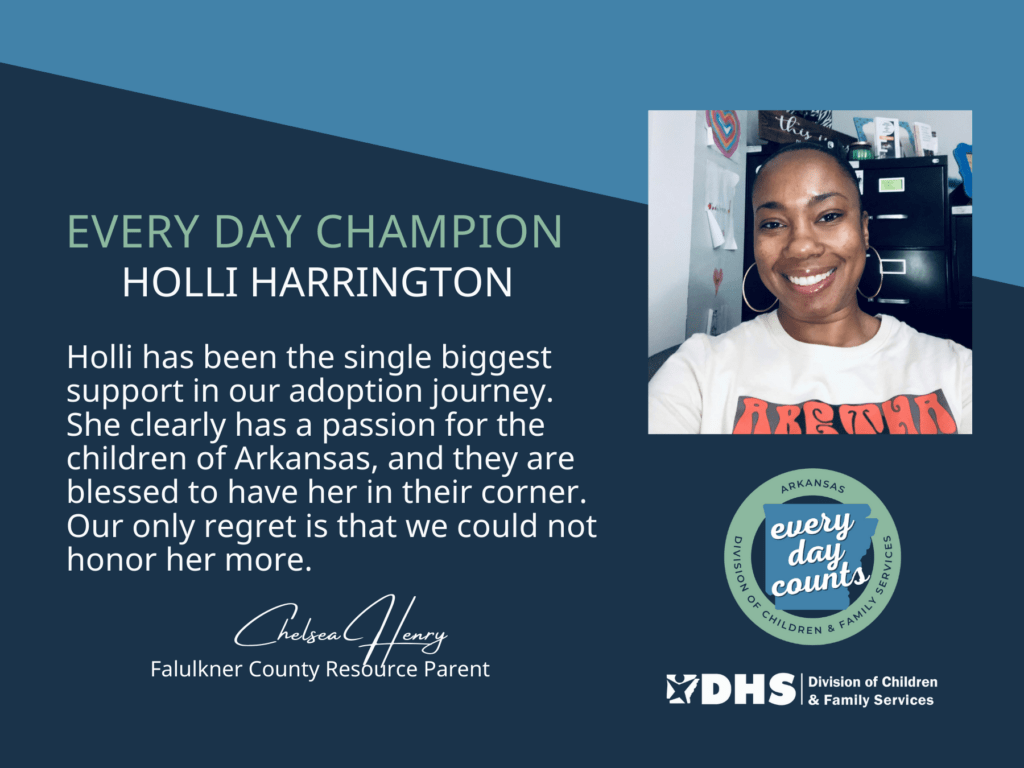 Meet Holli, an adoption specialist in Area 5. There's a lot we could say about the wonderful work Holli does for the children and families she serves, but this testament from a resource family is one that is too good not to share:
"We opened our home in May of 2019, and like most hopeful resource parents, we were excited and ready to be matched immediately. We started to lose hope, and when the pandemic hit, we were almost ready to give up. We met with Holli; I looked at her and told her that we were ready to throw in the towel, and she looked at me and said confidently, "Your child is out there. They will come home. Be patient. They are coming. Don't lose hope." Our son came home in July of 2020. Then, in November of 2021, Holli called us again with news that our daughter was coming home. My husband and I let her know that we would be naming our daughter Holli after the woman who helped us create our family. Now, every time I say my daughter's name, I remember the woman who we call our adoption angel."
After a beautiful story like that, there's not much left to say except thank you. So, thank you, Holli, for your commitment to the children and families in Arkansas. We could not do what we do without you!
Ginger Hewett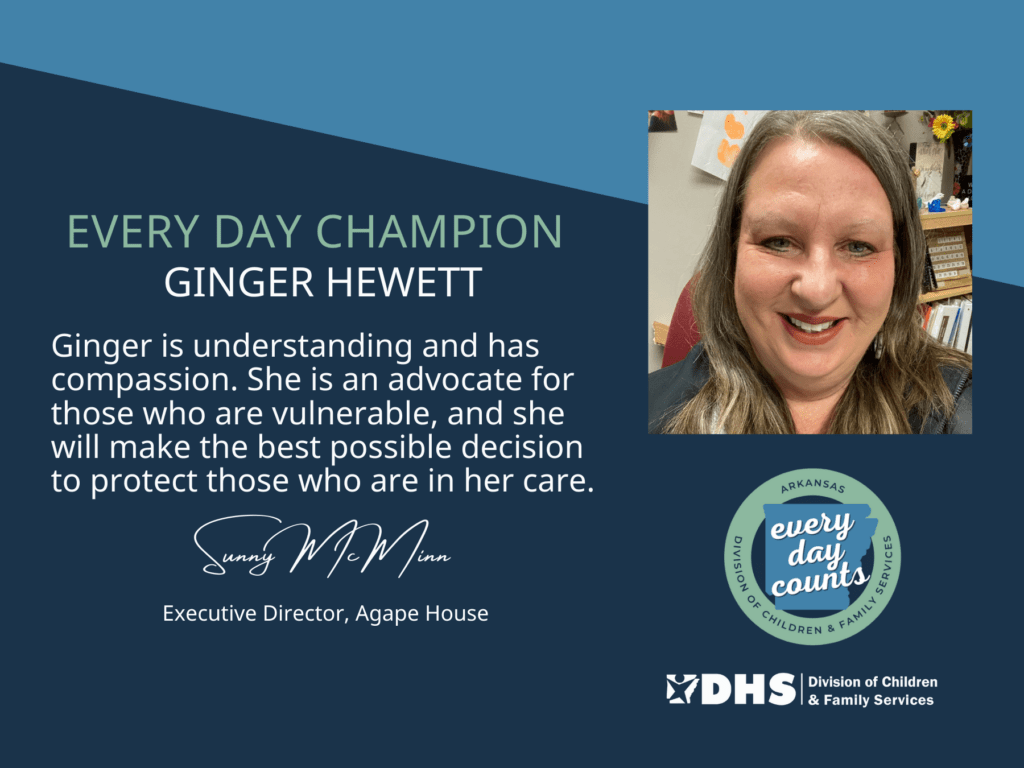 Ginger is a social worker through-and-through. Right out of college, Ginger began working as a social worker in a nursing home. After that, she worked at the DHS office in Clay County before making the decision to stay home with her children. In 2018, when she returned to DHS, Ginger joined DCFS as a resource worker and has been enriching the lives of children and families in Northeast Arkansas ever since.
Ginger is known in the counties she serves for being compassionate, dependable, and hardworking. She goes above the call of duty to help resource parents — recruiting the women's group at her home church to prepare freezer meals for foster families and even turning her garage into a storage for donations for families in need. But that's not even the best part, Ginger is not only able to connect families to resources, she has taken it upon herself to BE the resources her families need. When prospective foster parents needed CPR and First Aid training to open their homes, Ginger found approved instructors to teach classes for free and a church to donate a training space for free, and now, she is certified to start teaching the classes herself! Now, that's what we call being resourceful!
Thank you Ginger for your commitment to serving the children and families of Arkansas.
Ashley Young
Last week we mentioned some people are called to work for DCFS. This week we're highlighting someone who, well, simply put, it's just in her blood. Meet this week's Every Day Champion, Ashley!
Ashley began her work with DCFS following her mother's footsteps. Ashley's mother worked for DCFS as an investigator, and once she graduated college, Ashley joined the team too. And while she did follow her mom's footsteps initially, a little friendly competition between the two pushed Ashley to chart her own path and make a name for herself.
"My mom and I have always been very competitive, and so it over flowed into our work ethic." Ashley says. "My mom worked very hard to build positive relationships with law enforcement and other stakeholders in the area, so when I started I had to come up with something above and beyond that."
And she has done just that. Ashley set out to change the narrative about DCFS, and champions the cause of DCFS every by building rapport with partners and stakeholders in the communities she serves like law enforcement, schools, hospitals and churches; she educates the communities by hosting regular trainings; and she is a champion for safety organized practice.
Thank you Ashley for championing the causes of DCFS and making every day count for the children and families of Arkansas.
Michael Proch
Working for DCFS is not always a choice one gets to make; for some, like this week's Every Day Champion Michael Proch, it's a calling. Michael is a native of Polk County (Mena) and has been with DCFS nearly 10 years. Michael tells us his employment with DCFS came about by chance; he had no plans of working in child welfare, or even with the state, but things have a way of working out, and he loves the work he does and can't imagine himself doing anything else.
Michael is known being for resourceful, keeping community partners and stakeholders involved through his involvement with MDT, being a team player at work, and going the extra mile for the clients he serves.
Thank you, Michael, for your commitment to making every day count for the children and families of Arkansas.
Sharon Willis
If anybody is committed to serving children and families, it is Sharon! Sharon has been with DCFS nearly 30 years and still serves the families of Lee County with a smile.
Sharon is a strong pillar of support for the children and families on her caseload and is known to go above and beyond the call of duty regularly. In fact, on one of her current cases, Sharon has provided a parent with clothes from her own closet, paid prescription copayments, and she sometimes even spends her days off facilitating communication with providers assigned to her cases.
Sharon's work is not only recognized by DCFS or the families on her caseload, but also by her community. Vanessa Brayboy – Denson, Executive Director of Brayboy Safety Against Domestic Violence Crisis Center shared, "Sharon has always been caring, understanding, and relatable. She has always been dedicated to the clients' needs, and her enthusiasm motivates them to do more with their lives."
Thank you Sharon for your commitment and dedication to serving the children and families of Arkansas. We could not do what we do without you!
Brandy Ezell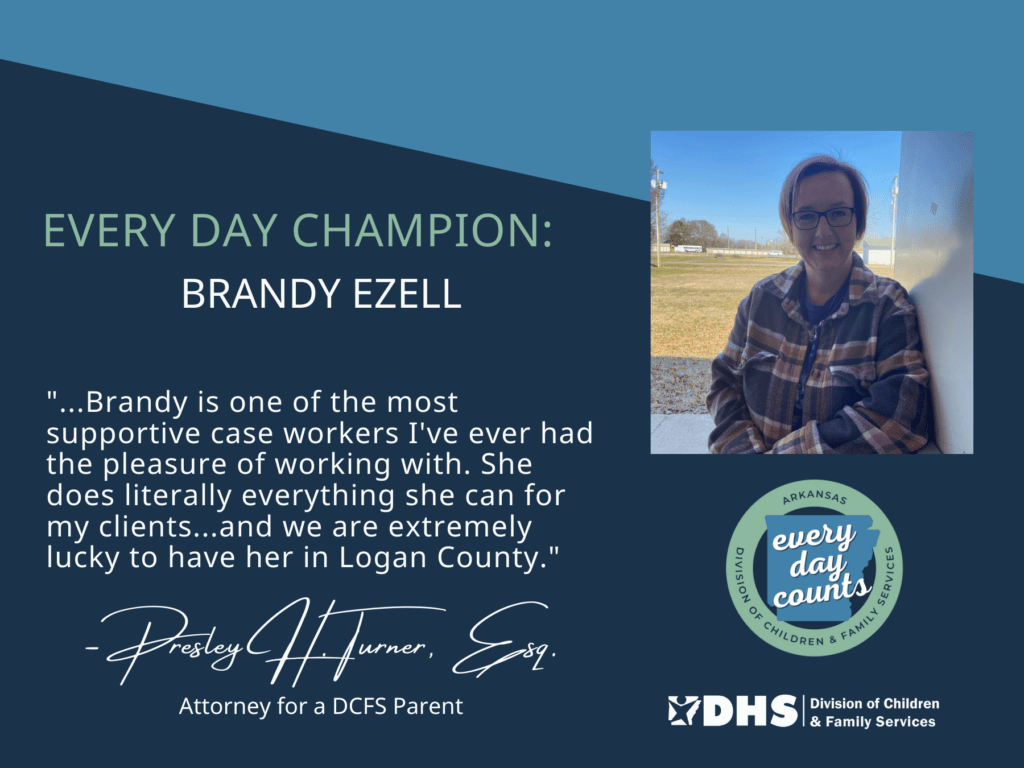 Brandy is a fierce advocate for families and a champion for safety and permanency in Logan County. Brandy tells us she starts every case by building a rapport with the parents and children on her caseload, and working to help them understand that they are team with one common goal. She goes the extra mile to strengthen families, including making family visits more normal by creating opportunities for families to visit together outside of the office. She has taken families fishing, hiking, to museums and more! Her work is not just felt by our staff and the families she works with, but also by partners and her community. Presley Turner (Turner & Rasch, Attorneys LLP), an attorney for a DCFS parent said, "Brandy is one of the most supportive caseworkers I've ever had the pleasure of working with. She does literally everything she can for my clients…We are lucky to have her in Logan County."
Thank you Brandy for making every day count, championing the cause, and for your commitment to strengthening families!