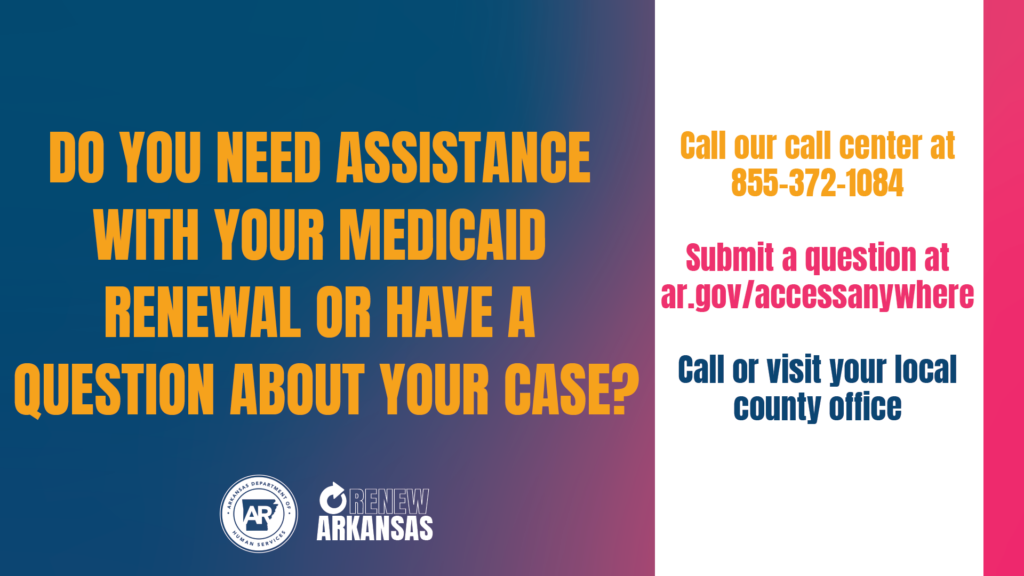 Health Care, SNAP, and TEA
For most DHS public assistance programs, you can apply online. To apply for food assistance through the Supplemental Nutrition Assistance Program (SNAP), cash, and other supports through the Transitional Employment Assistance (TEA) program, or Medicaid, ARKids, TEFRA, and health care under other categories of Medicaid, go to Access.Arkansas.gov.
Learn more about the new features on Access Arkansas that make it easy to apply and manage your information online:
Submit a single application for an entire family online, by mail or phone, or in person at local county offices statewide
Renew your case or update information online
Upload documents
Read notices from DHS and set up text and email alerts
Check the status of applications or renewals
Watch step-by-step videos of how to create an account, apply, upload documents, set up text alerts – and more!
For other services, such as assistance paying for child care or accessing services through the Division of Developmental Disabilities waiver, the process is a bit different. You can learn more about the steps you need to take to apply for those programs below.
Help Paying Your Rent
Assistance is available through the federal Emergency Solutions Grant Program. You must apply with the organization in your county that is handling this program for DHS. You can learn more here.
Help Paying for Child Care
DHS's Division of Child Care and Early Childhood Education helps eligible families with limited incomes cover the cost of high-quality child care. To be eligible, families must not exceed eligible income and must:
work at least 30 hours a week
attend school full time
spend at least 30 hours a week in a job training program
(or any combination of these)
Based on your income, you may get assistance to pay for all or some of your child care. To learn more and find out how to apply, visit our child care assistance page. To learn more about short-term Essential Worker Child Care Assistance, visit our FAQ page.
Help Accessing Services for Someone with Developmental Disabilities or Delays
DHS provides lots of different services and supports for clients with developmental disabilities or delays and their families. It may be a bit overwhelming for families who have never had to access these services so we are here to help.
We have an intake and referral unit within our Division of Developmental Disabilities that can help you walk through the process for applying for services. The best way to start is to call our DDS intake and referral unit at 501-683-5687. Staff there can help you navigate the different programs, eligibility requirements, and application process for:
Help paying for nursing home care
Medicaid does cover nursing home care for individuals Arkansans who meet both medical needs and financial criteria. This is called Long Term Services and Supports (or LTSS). You will need to fill out the application, which can be found on our website, and then submit it and any other needed documents to your local county office.
Help for adults and seniors to stay safely in their homes
DHS has several programs that are designed to help adults with physical disabilities and seniors stay in their homes and communities rather than go to s skilled nursing facility. To apply for the programs below, please reach out to your local county office. If you would like to talk to a counselor about your options, call the Choices in Living Resource Center at 1-866-801-3435 or email choicesinliving@arkansas.gov.
ARChoices in Home Care provides attendant care, home-delivered meals, personal emergency response systems, adult day services, and respite care. Independent Choices is like ARChoices in Home Care, but the client is responsible for hiring, training, and supervising his or her in-home workers from Medicaid funds the client or his/her representative control.
Living Choices Assisted Living is a Medicaid program that pays for apartment-style housing for people who need extra care and supervision. It's for people who are at risk of being placed in a nursing home or who are in a nursing home and want more independence.
Program of All-Inclusive Care for the Elderly (PACE) is for people age 55 and older who have been determined by the state, based on specific criteria, to need nursing home care. PACE allows them to live as independently as they can.
Help paying for broadband and internet service
The Arkansas Department of Commerce has a program that helps Arkansans pay for internet and broadband services for their homes. You can learn more about the program, the eligibility requirements, and how to apply at Commerce's website.