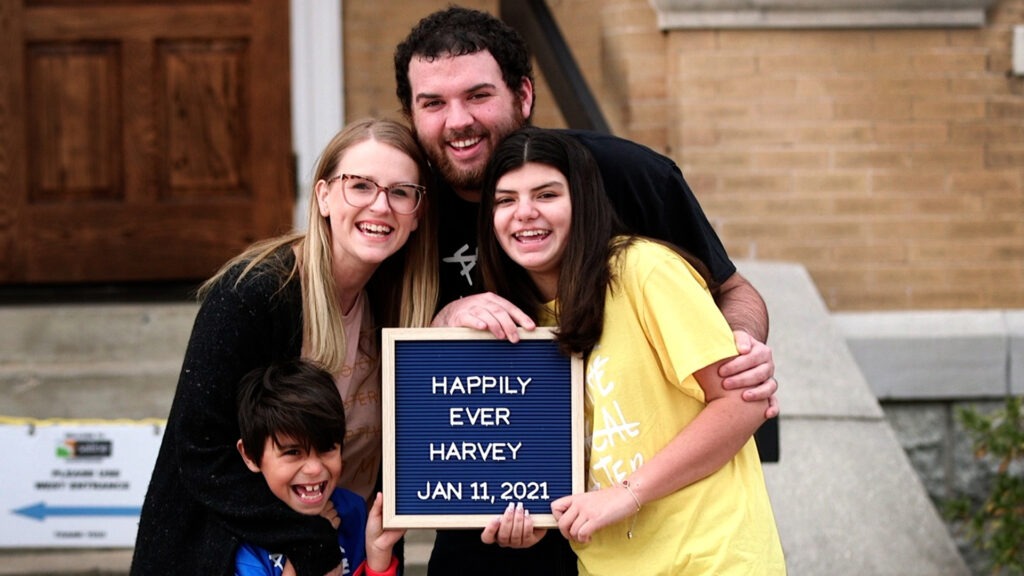 Happily ever after. It's how we all want our life stories to be, right?
Kyle and Meghan Harvey had those plans when they got married a few years ago. Meghan, a teacher, and Kyle, a pharmacist, knew they wanted a family of their own and a life full of joy and purpose.
Alyvia, age 13, and her little brother Hudson, age 7, had those same dreams. They wanted a loving and supportive family to wrap around them and allow them to be kids and grow into amazing young people.
Happily ever after.
But neither Kyle, Meghan, Alyvia, nor Hudson ever dreamed that their lives would intersect and that they would start a new life journey as a family together.
Early on, Meghan and Kyle knew they wanted to grow their family by adoption. When they started their foster and adoptive journey, they knew there was a need for more homes for older children, but they didn't realize how big the need was for homes willing to accept siblings.
"I didn't realize how important it was for siblings to stay together," Meghan said. "They've always been family. To be able to keep them together and help grow their sibling relationship, that's been the most important thing for me."
But when they first got the call about a 5-year-old and a 12-year-old, Kyle and Meghan weren't sure they were ready.
"I was scared to death," Meghan admitted. "I didn't know how to parent a pre-teen. But teenagers need consistency just as much as younger kids, and they'll thrive when you can give it to them."
That call was about Alyvia and Hudson. Through no fault of their own, they were in foster care with the Arkansas Division of Children and Family Services and they needed an adoptive family. Their hopes for a happily ever after were answered when Meghan and Kyle came into their lives.
Conventional wisdom might suggest that Alyvia and Hudson are lucky to have found their forever home, and in some ways, that might be true. Finding adoptive homes for siblings, especially when one of the siblings is a teen, is difficult at times.
But if you ask Kyle and Meghan Harvey, they are the ones who are lucky to have found these two siblings. And the focus of their lives changed – for the better – with that one "yes."
"I think we hit the jackpot," said Kyle. "Just down to their core…good kids. Both of them, and we love them dearly."
"It's not about us," Meghan added. "It's about the kids. They are not lucky to have me…I am lucky to know them."
Now, this family's story has a new ending in sight. They celebrated the big day with a new family motto – "Happily Ever Harvey." Now that's a story worth telling, and we can't wait to see where it takes them.