SMP The Mission
Brought to you by the Senior Medicare Patrol National Resources Center
Senior Medicare Patrols (SMPs) empower and assist Medicare beneficiaries, their families, and caregivers to prevent, detect, and report health care fraud, errors, and abuse through outreach, counseling, and education.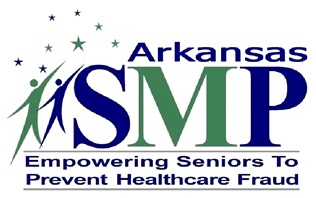 This program was developed to help you understand more about health care fraud. It involves recruiting retired persons to teach Medicare and Medicaid clients to recognize and report health care fraud.
If you have questions or concerns about health care fraud, are interested in volunteering, or would like to schedule a free speaker, call Arkansas SMP 1-866-726-2916. You may also email Kathleen Pursell at kathleen.pursell@dhs.arkansas.gov.
Become a SMP Volunteer
The SMP program offers volunteers an opportunity to make an important difference in their communities. Volunteers take pride in working to ensure that the Medicare program will be protected for future generations. In 2019, 54 Senior Medicare Patrol projects had 6,875 active team members who conducted 28,146 group outreach and education events, reaching an estimated 1.6 million people. In addition, the projects had 320,590 individual interactions with, or on behalf of, a Medicare beneficiary.
The Importance of SMP Volunteers
Health and Human Services (HHS) Secretary Kathleen Sebelius spoke to SMPs at the August 2011 national SMP conference and she had this to say about the role of SMP volunteers:
"…We know that one of the most effective and direct steps we can take to improve Medicare's long-term health is ridding the program of waste, fraud, and abuse. And for the last 14 years, the Senior Medicare Patrol has been on the front lines of that fight. No one feels more strongly about keeping criminals out of Medicare than seniors themselves. When someone defrauds Medicare, it means higher premiums and co-pays for beneficiaries. It also threatens the program that they have worked so hard for – and that they want to make sure is there for their children and grandchildren."
What SMP Volunteers Do
SMP projects match a volunteer's skills and interests to the needs of the program. As a result, SMP volunteers may serve Medicare beneficiaries, their families, and caregivers in many creative ways. However, there are six types of activities most commonly conducted by SMP volunteers nationwide:
Assist with administration: Help with work such as copying, filing, data entry, and placing outbound phone calls in support of SMP activity
Distribute information: Help with transporting and disseminating SMP information materials to sites and events; may include presenting prepared copy or performing scripted activities for small groups
Staff exhibits: Help by staffing information kiosks or exhibits at events such as health fairs; also may provide general information about SMP to the public and answer basic questions
Make group presentations: Help by giving presentations on SMP topics to small and large groups; may interact with the audience by answering questions and through discussion
Counsel: Help by having direct conversations with beneficiaries about their individual situations; may include review of personal information such as Medicare Summary Notices, billing statements, and other related financial and health documents
Manage complex interactions: Help with in-depth interactions with beneficiaries who are reporting specific instances of health care fraud, errors, and abuse; may act on behalf of a beneficiary to correct an error or refer suspected fraud and abuse to the appropriate authorities
Watch this video to see volunteers in action.
Contact Your SMP
ARKANSAS SMP – 866-726-2916 / Email: Kathleen.Pursell@dhs.arkansas.gov
SMP projects serve every state, Guam, Puerto Rico, the U.S. Virgin Islands, and Washington, D.C.
To find your SMP click here.
To volunteer click the "YES! I WANT TO VOLUNTEER" link below. The SMP Volunteer Contact Form will be available online to fill out and a link to email the form to Kathleen Pursell, the volunteer coordinator, is available on the form. Once your form is received, you will be contacted about the many wonderful opportunities available.
Stay Connected
Like and follow us on Facebook to view and share the most up-to-date media to help detect, protect, and report Medicare fraud!
Newsletters
Fraud in the News
Scam and Fraud Alerts
Videos
American Sign Language Videos
Print Materials
Use this information to share with Medicare/Medicaid consumers and caregivers to help spread information that will empower everyone and to avoid Medicare and Medicaid Fraud.