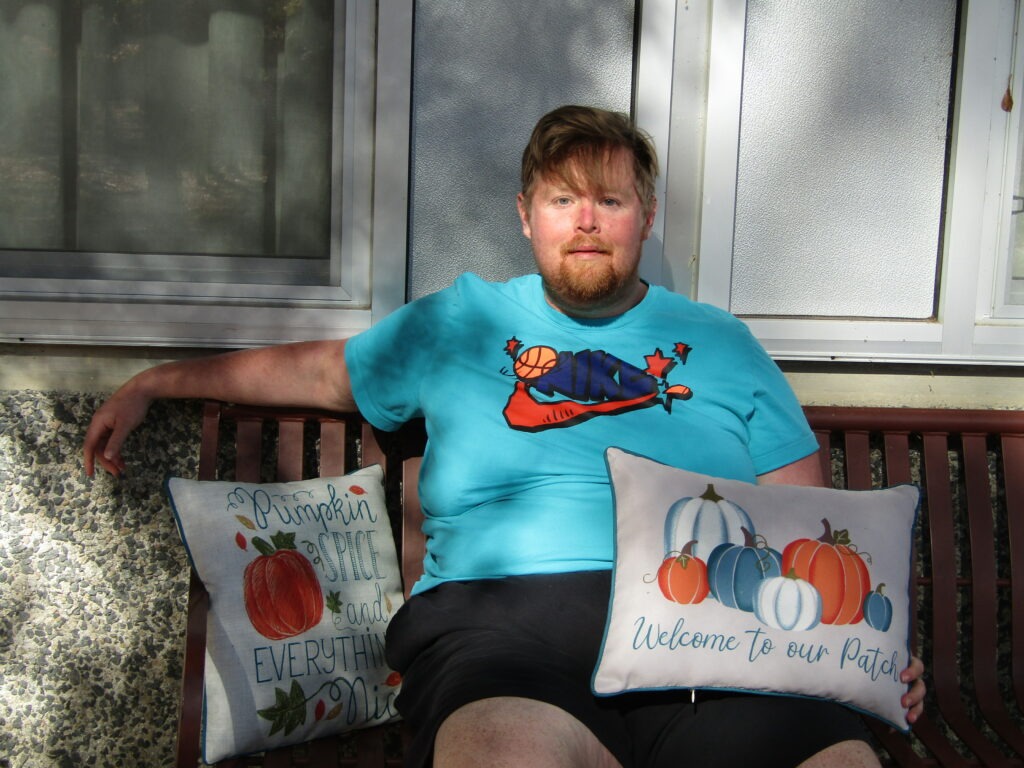 Note: This piece is the first in a series of stories about holiday traditions at the five Human Development Centers across the state run by the Arkansas Department of Human Services.
No matter where you live, Thanksgiving is all about celebrating family traditions at home with people you love. Fall and winter decorations come out, Thanksgiving meal plans are made, and we look ahead to a wonderful holiday season. The same is true at each of Arkansas's five Human Development Centers (HDCs) run by the Arkansas Department of Human Services. Each HDC plans great holiday events for its residents and staff, but today we're highlighting the festive efforts at the Arkadelphia HDC. The staff there work together to create a holiday full of eating, spending time with loved ones, and keeping up with traditions for everyone in the Arkadelphia HDC family.
The families of the residents at each HDC trust the HDC staff to provide the best care possible for their loved ones. The staff at each HDC understand that choice was not made easily, and they do their best to earn that trust every day. Staying connected with those families is important, but it is especially important during the holidays. The Arkadelphia HDC staff work incredibly hard to make sure that families with loved ones at the Arkadelphia HDC don't miss anything during the holidays. The Arkadelphia HDC staff gladly sacrifice their time with their own families to make sure their residents and their families get the best holiday experience.
"Our staff here are simply amazing," said Arkadelphia HDC Program Administrator Tanyaka Conway. "They work so hard to make sure that our residents have every opportunity to enjoy a wonderful, loving holiday season. When we see the smiles and the joy on our residents' faces, every bit of extra work was absolutely worth it. I wouldn't trade my team for anyone else. We're a family here at Arkadelphia, just like the other HDCs."
Most residents stay at the Arkadelphia HDC with their "HDC Family" over the holidays to avoid a disruption in their care, but some are able to go spend time with their original families. The dedicated HDC staff start planning these trips weeks in advance. They contact families and work out convenient pick-up and drop-off times and locations so their loved ones can be home for Thanksgiving. The Arkadelphia HDC even provides a shuttle bus that goes all over Arkansas to safely transport residents to family if needed. It's not uncommon to see the shuttle heading off to places like Pine Bluff, Little Rock and El Dorado so families can spend Thanksgiving with their loved ones who live at the HDC. Staff spend the days leading up to the holiday and even Thanksgiving Day dropping off happy residents so they can spend the holiday at home and with their families.
Some families decide to spend their Thanksgiving Day at the HDC with their loved ones. This is an exciting opportunity for many residents to show off their HDC home. The residents spend lots of time decorating and preparing to give their homes and the whole Arkadelphia campus the Thanksgiving spirit. Teachers and rehabilitation instructors at the HDC spend weeks leading up to Thanksgiving helping residents create crafts and other items to decorate their homes with. They even paint dreamy holiday scenes on their windows that everyone sees as they pass by each home. These handmade crafts and special window scenes help create an at-home feel for residents, their family, and staff.
Traditions don't stop with decorating though. A huge feast is prepared by the kitchen staff, complete with all the fixin's: Turkey, chicken, green beans, mashed potatoes, cranberry sauce, German Chocolate cake. Everyone is served a full spread by the Arkadelphia HDC staff.
Charles, a resident at the Arkadelphia HDC and also a talented artist and cook, loves getting to help create an at-home feel for Thanksgiving around campus and in the homes.
Charles loves to cook and eat, and he is a big fan of the Thanksgiving meal at the HDC. He was quick to add, however, that as good as it is, "it isn't nearly as good as my 'Creole, Not Cajun' stuffing."
Charles' favorite thing to do on Thanksgiving is to eat. While he is waiting for the feast to begin, he spends his time watching football – but only if the New Orleans Saints are playing.
Other residents have other preferences for what they watch before their meal. Some residents watch whatever football team is playing, while others watch holiday movies. There are a few homes where all the residents gather to watch the entire Macy's Day Thanksgiving Parade from start to finish. That is the ONLY thing they will watch – because they stick to their traditions!
But even after plenty of football, parades, eating so much you feel almost as stuffed as the Thanksgiving turkey, and probably a nap or two later, the day is still not over for the residents at the Arkadelphia HDC. After the meal, the residents and staff sit down together and create Christmas wish lists while eating cookies and drinking hot chocolate. It's a perfect end to a perfect day for residents, the families who could join them, and the staff.
Charles and other residents we spoke with were quick to share how thankful they are for the staff who sacrifice time with their own families to make their Thanksgiving so special. Holidays are the most special time of the year for so many people, especially those at our HDCs. That is because the staff – from direct care to kitchen to laundry – sacrifice their own family time and their own traditions to ensure that the clients at the HDCs get to experience everything that makes Thanksgiving, and every other holiday, so special.
The staff we talked with all reacted the same way – the extra work they do around the holidays is really no burden at all. The residents and their co-workers are their "other" family. So, giving their time and effort to make sure their HDC Family has a wonderful holiday experience is just an extension of the time and effort they devote to their actual families.
Traditions…family…fellowship. That's what Thanksgiving is about. And it's what the staff at the Arkadelphia HDC and all of our HDCs happily provide for the "HDC Family" each year.