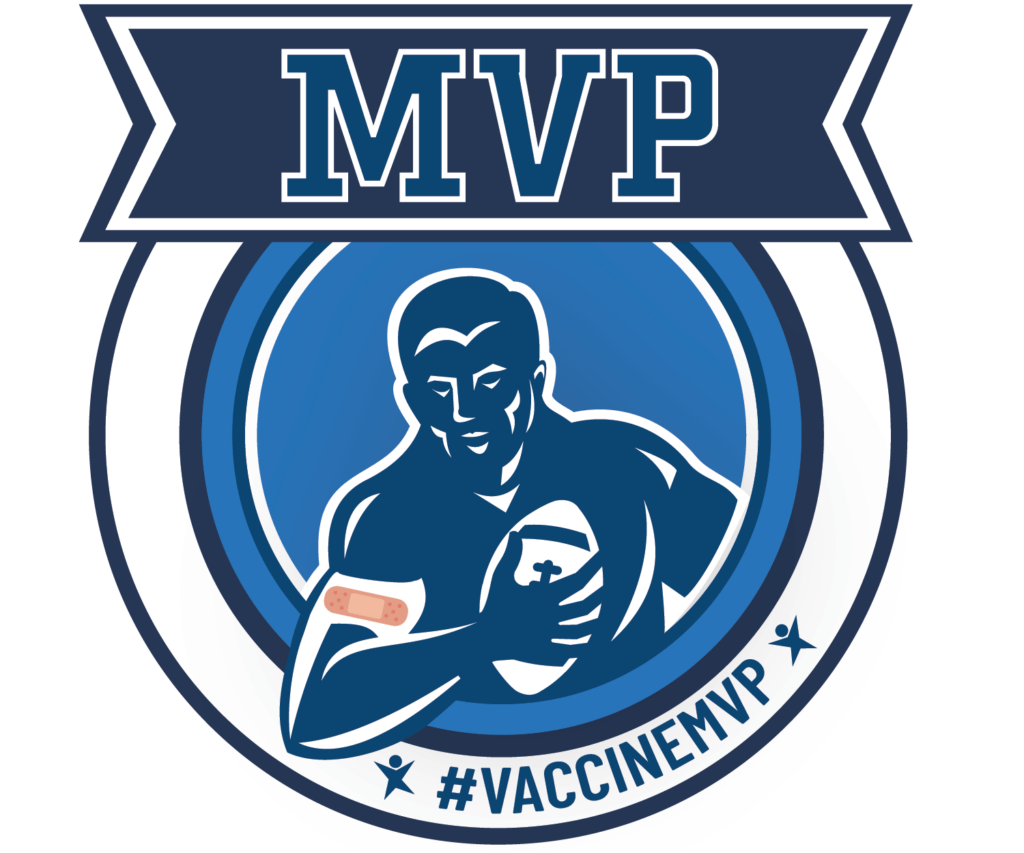 The best person to encourage unvaccinated people to get vaccinated are people they know and trust, like family, friends, neighbors, pastors, and doctors. The following advice offers ways you can talk to vaccine hesitant friends or family.
Vaccine Development Speed
RNA technology was the breakthrough technology with COVID vaccines. This "newness," however, may cause hesitancy in some. The technology has been studied for about a decade. There have been hundreds of millions of doses administered, and so far significant adverse reactions are very low.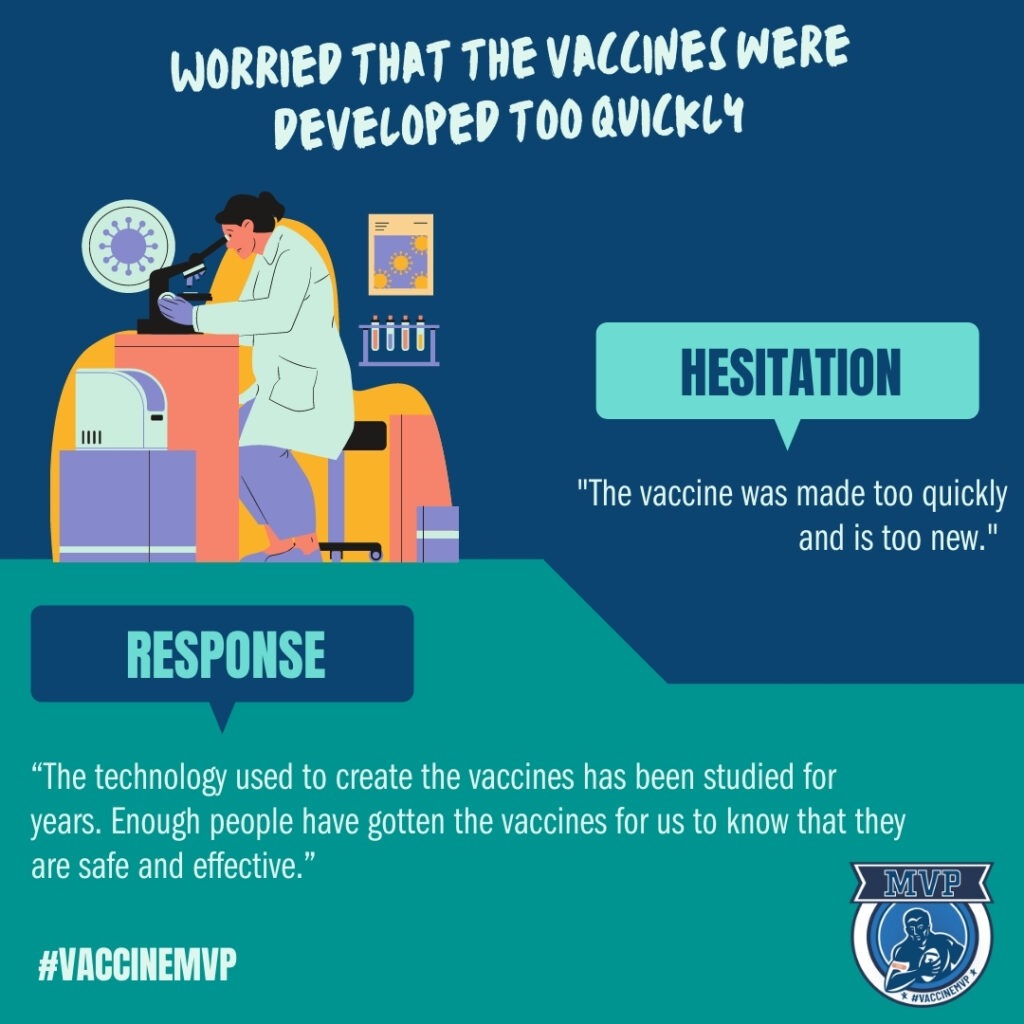 Pregnant women
Pregnant women and new moms are at greater risk of getting severely ill from COVID-19 compared with non-pregnant women. On July 30, 2021, the American College of Obstetricians and Gynecologists issued guidance to physicians that it "strongly recommends" that "all eligible persons, including pregnant and lactating individuals, receive a COVID-19 vaccine or vaccine series." It also said that claims linking COVID-19 vaccines to infertility are unfounded and have no scientific evidence supporting them.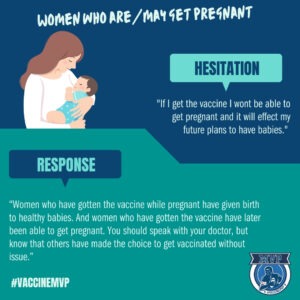 Vaccine Indifferent
This group doesn't have strong feelings one way or another. Scientific data on the effectiveness of the vaccine may convince them. Compare the risk of the vaccine versus unprotected exposure to COVID-19. Increased rates of infection due to the Delta variant may motivate them, too.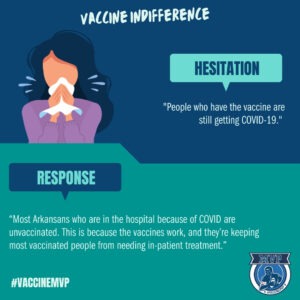 Young and Healthy
The Delta variant seems to infect younger people at a higher rate than the original COVID. Before, it didn't seem like a major risk because COVID largely targeted the elderly, so the young and healthy didn't seek the vaccine. Now, younger and middle-aged people, even those in good health, are at greater risk of severe infection. Serious issues have developed in some patients, including blood clots and damage to the lungs.
COVID survivor
The natural antibodies you produce after fighting COVID are good, but not as good as the antibodies from the vaccine. Getting vaccinated will produce a broader spectrum of protection against COVID variants, protecting you better. COVID survivors have a significantly higher risk of reinfection than those fully vaccinated.
Side Effect Concern
Some people are worried that side effects will cause them to miss work. Others are worried that because the vaccines are new, long-term side effects may still develop. In the past, vaccine monitoring has shown that if side effects are going to happen, they tend to happen within six weeks of getting vaccinated. That's why those in charge of ensuring vaccines are safe waiting at least two months after vaccines were given in clinical trials to consider granting emergency authorization of the COVID-19 vaccines.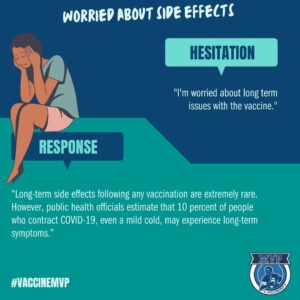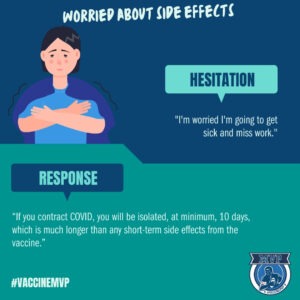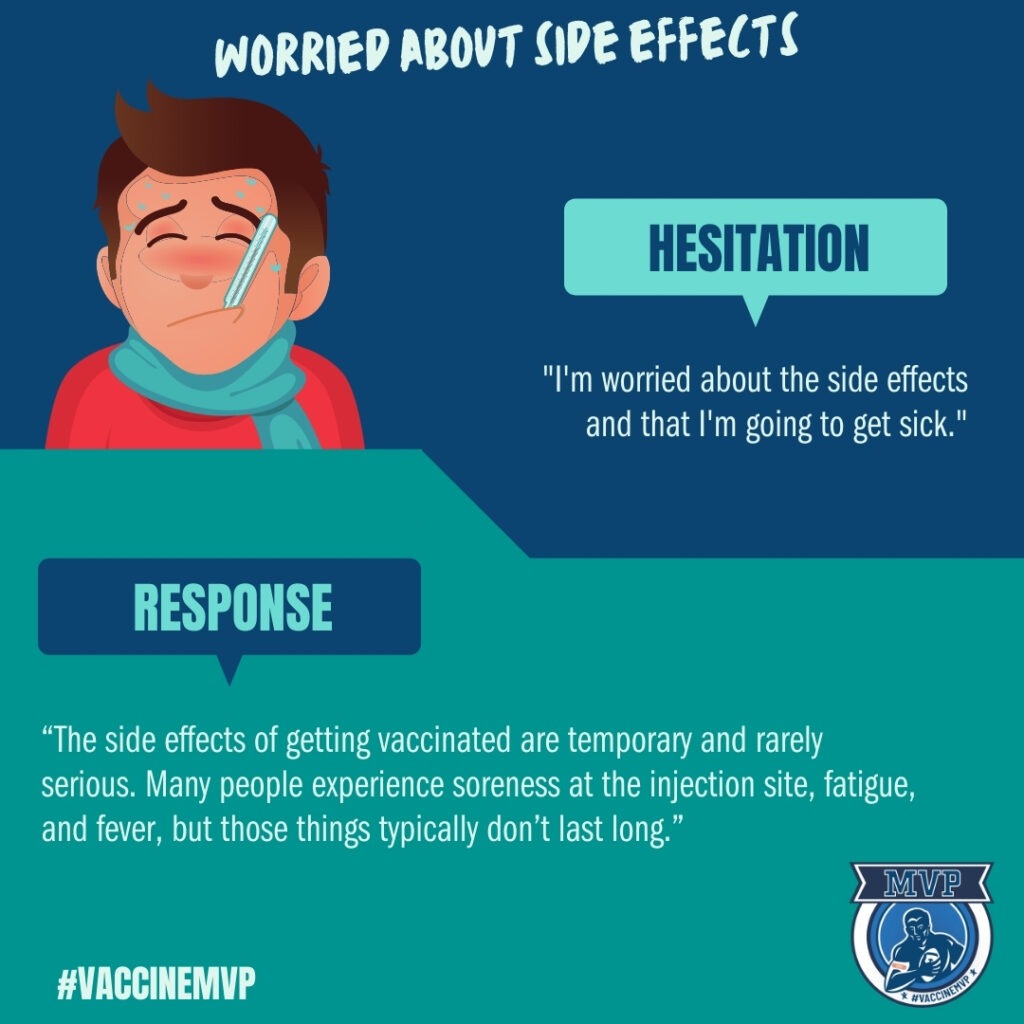 Vaccine Hesitant
People who aren't opposed to getting vaccinated but are waiting for more people to get vaccinated before they decide to do it themselves.
Unfortunately, many people will not be convinced to get the vaccine. It's best to be cordial and respectful of their decision, even if you feel it's wrong, and hope one day they will reconsider. Shaming and pushing too hard will have a backfire effect. It may be best to save your energy to convince people who may be more receptive to your message.